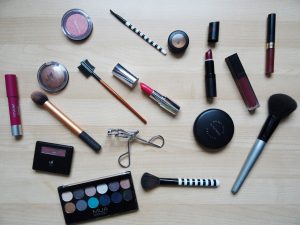 Cheap makeup that works? Is there such a thing? Of course, there is! Budget makeup is not necessarily the same thing as bad makeup and there are many good makeup products that you can buy that are really great but don't break the bank.
We have some favorites to share, so below we have listed some great and affordable makeup products!
In some cases,  you get good pigment and good products even if the price is low. Often it is thought that it is better to invest in more expensive brands as they deliver and usually last much longer. However, there are, funny enough, a lot of exceptions and this makes it always possible to test cheap makeup, no matter where in the world you are!
Best Cheap Makeup products we recommend
We have put together a top list of cheap makeup that we like and that we think is worth testing. We mix quite freely here because we want to include some different types of makeup in the leaderboard. So you will be offered a little of each. Exciting, right?
1. MAX FACTOR: False Lash Effect Mascara
A mascara from Max Factor at a low price. It probably comes as no surprise to you that we have a mascara in this budget article, right? If it is a product that is good and that one can find among cheap makeup then it is precisely mascaras.
There are many good mascaras that fall within the scope of "budget makeup". So if you want a good product that does the lashes justice you don't have to start looking at the most expensive end, but you can easily find a good mascara for around a few ten dollars.
2. MAKEUP REVOLUTION: Ultra Blush Palette Golden Sugar
A good palette that costs a little. A real little treat is what this product can best be described as! You get 8 beautiful shades to mix and match just the way you want!
You can use this product just as you please. If you mainly want the rouge, it goes well, but it is also the case that this product is good as a highlighter and more.
It has both shimmery and matte tones, so you can have it all over your face!
3. Loréal: True Match Foundation
These are extremely affordable products that come in many shades! They are not kidding when they say that everyone can find their true match, but that is a fact! The products blend well into the skin, you don't get glossy and you don't get dry. Superb products in basic makeup that everyone should try!
4. W7: Banana Dreams Loose Powder
This is a cheap makeup powder you can buy. Do you belong to the crowd that has dark rings under their eyes and likes a good loose powder? Then this is a very good choice of product! W7 is a brand that is really good at delivering cheap makeup that is really good.
When you have this powder under your eyes (of course you can have it wherever you want, but it is created to neutralize dark rings) it is very nice to see that they have managed to produce a product that does not get cakey and settles in fine lines. This is simply a very good loose powder for anyone who wants to get rid of dark rings, or have a yellow powder for something else!
5. W7: Candy Floss Brightening Face Powder
W7 Candy River Brightening Face Powder. This little lovely pink powder with its associated pink powder brush is a true dream!
This with pink powder and pink packaging is actually something that many of us fall for, even though the product itself may not be as good. Here, however, you get both a good product, a fine powder, a nice packaging and a very good and cheap brush! Cheap makeup at its best!
6. NYX: Sweet Cheeks Blush Palette
Great and cheap makeup from NYX. Another palette included in the collection of good cheap makeup! This is a palette with many good colors where everyone can find a number of useful shades for either rouge or something else if you prefer.
NYX always has good budget makeup, so if you are looking for that, you should look into NYX, but also the aforementioned W7 and Makeup Revolution.
7. E.L.F .: Eyeshadow Palette Matte
Another palette, from e.l.f. This is a good palette that can be used both as a normal eye shadow and as a "kajal" under the eye if you want a softer look than with a regular kajal/eyeliner.
The colors are good and there are both light neutral tones, brown and gray in the same palette. Good mix!
Buying makeup online can often be extra cheap, especially if you shop in stores that are only available online.
The reason is simply that online stores often have more discounts, promotions, discount codes and more. (But even regular physical stores can, of course, have great deals and SALE sometimes).
Watch out for fake makeup!
One thing that is dangerous when it comes to both skincare and makeup is fake products. Of course, it can be tempting to buy expensive brands at remarkably low prices, but if it is just too good to be true, then it is almost 110% fake makeup.
You can also have the misfortune of finding expensive nice brands at low prices without being fake, but instead, they are products that are no longer sold. So you buy old products from an old store. It is definitely not good with old makeup, but always make sure that the makeup you buy comes from stores that are serious and reliable.
To check out a store online, you can check if they are authorized retailers of the brands they sell. If so, you are good to go. Then just go shopping!
A good and reputable store always writes things like "discounted price due to short expiration date" or similar when selling products that are removed from the product range. This is very important to keep in mind because old makeup can destroy both skin and eyes if you are not careful. Serious stores can respond when a product of various kinds expires.
Conclusion
While discounted makeup is great, sometimes you don't want to sacrifice quality for a lower price tag. Many companies benefit from offering discount codes to customers who sign up for email updates, join their loyalty program, or just celebrate different times of the year. Sales and discount codes can take a hefty amount of money off of mid to top-quality makeup brands, so be sure to take advantage of those discount codes!